Your own slice of beach front paradise
Luxury Accommodation on the beachfront
Luxury Accommodation on the beachfront
Experience Paradise
The finest way to experience the beauty and enchantment of Mozambique. Here, warm clear waters, silky soft sands, cooling ocean breezes and long sunny days make it an idyllic setting to relax and absorb the gorgeous surrounds.
Casa Malcampo is situated in the idyllic Tofino, a picture perfect village on the temperate Indian Ocean with average water temperatures of 24C.
Your hosts Eddie and Nadia are fluent in English, Portuguese and Afrikaans,and on hand to not only ensure your stay is the best it can be but to also offer a wide variety of activities. Scuba diving and surfing dominate the daily activities. A combination of pristine swimming beaches and reefs offer a vast range of other activities including underwater photography, horse riding on the beautiful beaches through to Kite boarding.
Casa Baleia
12 SLEEPER BEACH VILLA
View Last Minute Availability
The Tofo Experience
Tofo has proved to be one of Mozambiques most popular destinations where tourism is ever increasing through-out the years, which in return, has lead to more development and interest in the area & country!
Diving
One of Mozambique's primary attractions is scuba diving. Tofo has 20 reefs in close proximity from which to choose….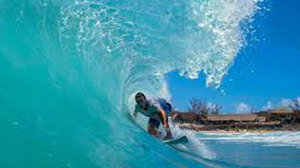 Surfing
The Inhambane coastline has all the makings of a world-class surf-spot; an ideal mix of warm water, ….
Fishing
Fishing enthusiasts may hire a boat and guide in Tofo village and pit their skills against the array of indigenous…..
Ocean Safaris
Tofo is one of the best places in the world to see the majestic Whaleshark. Reaching lengths of 12 m…..